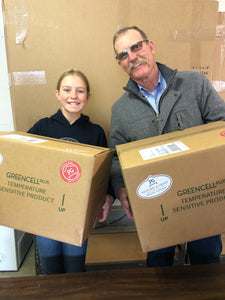 PG Village "The Traditional" Subscription
Regular price
Sale price
$99.00
---
This is our Box #2 with Traditional cuts to feed a wide range of enjoyment.
POG Village Meat Box is our 30, 60, and 90 day subscription meat box. We want to make having quality homegrown meats in your freezer a no brainer. Giving you time for other more important needs.
A custom pastured meat box shipped directly to your doorstep each month with no commitments. You choose if you prefer the premium cuts or family friendly cuts to fill the freezer, or a mix of both. 
You choose the price range, tell us a bit about what cuts you prefer, how you tend to use meats in your home. Each month the box will be a bit different but we will do our best to fill your box to those specifications.
You can receive a box every 30, 60, or 90 days. 
Want to skip a month? No problem, just let us know in advance. The frequency is up to you. No hassles. 
Remember, with each purchase a portion of your money goes to coming alongside other foster families in our community. In Exodus 17:12 Israel defeats Amalek when Moses begins to tire by the help of Aaron and Hur, who hold up his arms as he needs to sit because of exhaustion. #bethevillage = Be the body! Thank you for helping us hold up the arms of those around us fighting the dark battle in the foster care system. 
BOX OPTIONS
Box 2 - The Classics (~7lbs, ~15lbs, ~24lbs)
For those wanting good valued items and some high end premium cuts as well. Steaks, bacon, tenderloins, ribs, etc., all accompany the family favorites cuts.
List of possible cuts:
Bacon
Sausages (Jalapeño cheddar, Linguisa, Italian) 
Ground beef
Ground pork
Pork chops
Pork tenderloin
Premium steaks (Ribeye, T-bone, Tomahawks, Filet mignon)
Ribs
Roasts, bones and stew meats (beef or pork)
Value steaks

List of possible cuts to be included in your box (beef is all dry aged, and pork has been fed non gmo feed)
Beef Flank Steak (Box 3)
Beef Flat Iron Steak (Box 2)
Beef Ground Beef (Box 2)
Beef Ribeye Steak (Box 1,2)
Beef New York Steak (Box 3)
Beef T-Bone Steak (Box 3)
Beef Top Sirloin Steak (Box 2,3)
Beef Porterhouse Steak (Box 3)
Beef Pot Roast  (Box 1,2)
Beef Rump Roast (Box 1,2)
Beef Short Ribs (Box 1)
Beef Sirloin Tip Steak (Box 2)
Beef Soup Bone (Box 1,2)
Beef Stew Meat (Box 1,2)
Pork Baby Back Ribs (Box 3)
Pork Boneless Loin Roast (Box 3)
Pork Ground Pork (Box 1, 2)
Pork Lard (Box 2)
Pork Leg Roast (Box 2)
Pork Chops (Box 3)
Pork Tenderloin (Box 3)
Pork Shoulder Roast (Box 2) Picnic/Boston
Pork Spare Ribs (Box 3)