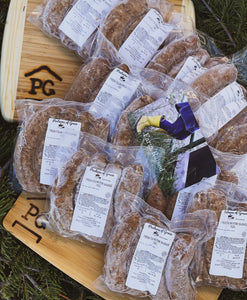 PG Italian Sausage box
Regular price
Sale price
$122.00
---
12 Packages of Italian sausage (1 lb. packages of Italian seasoning grind) no msg.
Cutting the fat I'm going to lay it out straight.
We have sold out of jalapeno and linguisa not because they are better but because we order 3x as much as italian. That's a lot of italian, right. Learning every day. So we're thinking maybe it's time to stock up on the italian now (freezes well).
One reason we ordered so much is this sausage is it's so versatile. You can have a meal by itself, use it as an ingredient in your recipe or as an appetizer. It tastes great in such a range of dishes, you could eat it several times a week without getting sick of it. 
Here are just a few suggestions we enjoy:
Take out of casing cook and top your sourdough pizza
Creamy Italian Sausage Pasta
One-Skillet Italian Sausage Pasta
Italian Sausage and Peppers Sandwich
Corn Chowder with Sausage
Eggs, sausage and cheese frittata
Stock up the freezer today so you won't have to run to the store on a night you don't know what to cook.
 We do our very best to try and have all boxes arrive at your door step rock solid but because sometimes things happen there is alway the possibility your box will arrive ready to enjoy with in the next few days.
*None of our animals are ever treated with antibiotics, they are fed only organic fruits and vegetables, and non GMO feeds. Always offered fresh water and acres of pasture. These animals were encouraged to live their best lives on the farm. We work to improve the soil with regenerative farming practices and each passing year we strive to be better than we were the year before.
**For all of our meat products it is recommended that you never quick thaw. Please, always allow this premium product to thaw in the refrigerator for the best quality and flavor.